Like Jesus' shocking, yet exhilarating rebirth, DJ Clorbis' arrival onto the Roosevelt rap scene was an unexpected and refreshing entrance. His posters were plastered across the school and the name "Clorbis" entered the vernacular seemingly overnight.
Clorbis' songs are filled with deep philosophical lyrics reminiscent of early Fifty Cent. Verses like "I'm a fountain of rhymes in dangerous times/Toeing across security lines" highlight Clorbis' revolutionary ideas and his own personal struggles as an artist. The song "What's Really Important (Smelt)" explores deep religious themes involving Clorbis' own Jewish heritage along with the growing commercialization of the holiday season. Arguably the strongest of Clorbis' songs, "Ya'll Don't Even Know" features multiple vocals and a deep reflection on urban crime and poverty. Clorbis' talent with rhyming is most visible in this song: "Y'all don't even know that I killed a man/Y'all don't even know my real name is Pam." The pulsing instrumentals in this song highlight Clorbis' rapping abilities.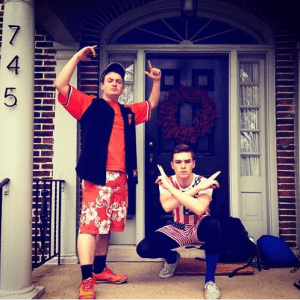 The artist's influences can be clearly seen throughout his work. His frequent allusions to his Jewish heritage mirror those of rapper Lil Dicky. Early work of Kanye West can also be seen in his complex and energizing lyrics; at times, the distinction between the two blurs and it becomes plausible that Clorbis may soon surpass West in quality. Though he remains relatively unknown outside of Roosevelt and his home of Evanston, Illinois, it is certain that within months DJ Clorbis will become a fundamental icon of rap.
"Bats (Ft. DK Glench)" is the first song to be produced by Clorbis, featuring the renowned DJ Gletch. Gletch serves as a solid anchor point in this song to Clorbis's lyrical lead, proclaiming his love of bats. "Bats" is quickly followed by "F*** My Dad": the shortest, yet perhaps most emotionally powerful piece of Clorbis' work. The erotic lyrics delve deep into the psych of Clorbis's mind and his disturbing influences as a songwriter.
Previous tracks to come of out of the Roosevelt rap scene (such as "Butthole Nazi" by Huey//Trip) fail to bring the same level of energy and reinvention to the genre as Clorbis's new material does. What gives Clorbis a step up in the competition is not his verbal mastery or creative lyrics—though those certainly help—but his passion. Clorbis puts his heart and soul into his pieces and as a result, some of the finest rap to ever come to Roosevelt is produced. No other artist better exemplifies the struggles of middle-class white youth than Clorbis.
Overall, The Roosevelt News awards him six out of five stars. We can only hope that this rhythmic raconteur continues to spit fire  for years to come.
His sensual hits can be found right here.
Featured Picture: DJ Clorbis, like the fabled lord and savior, was a gift to mankind, but also spat unparalleled fire. Picture by Amy Pelz.