As summer kicks off, so does summer conditioning for many upcoming fall sports. The first summer practices for Roosevelt's cross-country teams began just a few weeks after the school year ended, and were greeted with a horde of returning runners as well as students new to the program.After they wake much earlier than many of their peers would like to, the fervent runners made their way to a predetermined meeting place. There, they warm up and stretch together before breaking into groups based on ability and heading off to run the route assigned by their captains. Practices are held five days a week, but only experienced runners are expected to attend more than three for the boys' team; Tuesday and Thursday are designated "rest-days" for new participants.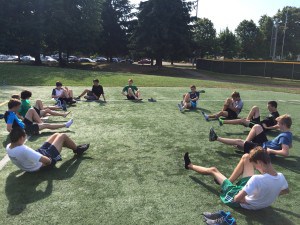 Fueled by the allure of a cold shower and heavy breakfast waiting for them when they get home, the summer trainers run 15-30 miles a week. The numbers will gradually rise as the school year swiftly approaches and the team prepares for their first meet. The grueling workout regime can make one wonder, what attracts new runners to the sport? Freshman Lincoln Groh says he was drawn to cross country because his older brother Sheldon ran when he attended Roosevelt. "It seemed like a good group of people, a good community, and it seemed like a fun thing to do," he remarked. After a week of practices, Groh was confident that the season would be challenging, but fun, noting that he really enjoys running so far.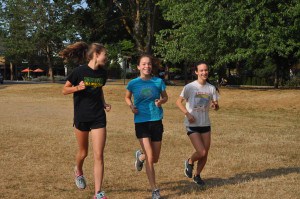 One of the captains for the girls' team, Senior Claire Hodge, commended the freshman class for taking the first step by showing up to practice. "Taking that initiative can be very intimidating with so many new people and personalities with varying fitness levels." Hodge expects the novice zeal to grow as they become more comfortable with their fellow runners. Veteran athletes also are enthusiastic about the team and the camaraderie that is already beginning to show: "Returning runners are constantly helping those who are new and showing them the way and talking with them to make them feel welcome and included," observed Hodge. She predicted that excitement will only grow as the season gets closer and the freshmen get more time to know their teammates and the sport itself. One thing's for sure: you should keep an eye on Roosevelt's cross country team this fall, and prepare yourself for some outstanding races.
Featured Photo: The girls' team stretches after practice to alleviate soreness and ready themselves for upcoming practices. Photo by Natalie Kauper.