As students shuffled in to Roosevelt for their last day of school before break, they were met with a startling sight. The cold, December morning was illuminated with billowing flames coming from Roosevelt Hardware, an abandoned shop right across the street from the school. Even hours after the firefighters arrived at the scene, the building was still smoldering and too dangerous to enter.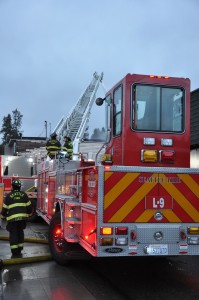 Firefighters recieved the call at 4:48AM, meaning the fire could've been burning long before that. "The initial company that showed up discovered heavy, heavy fire in the basement that extended all the way to the roof," reported Deputy Chief Woodbury of the Seattle Fire Department. They declared it to be a defensive fire, seeing as the dilapidated shop had "lots of structural problems, lots of fire involvement." This means that the firefighters didn't enter the building; they remained outside and sprayed water from there. As the fire spread, parts of the building collapsed and the fire department even knocked over the front brick facade "for safety purposes". Even as daylight arrived, they were still battling the flames. "We're going to be here a while," Woodbury noted.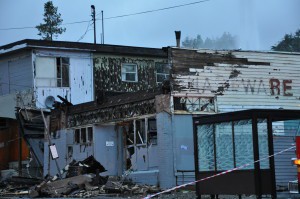 When asked whether the fire was accidental or intentional, Woodbury had no answer. Seeing as the firefighters aren't able to enter the building yet, their knowledge is limited. At 8:20AM, An inspector from the department was perched on a truck's ladder, peering down through the smoke while maintaining a safe distance form the fire. He later came down and they continued to spray the flames. Woodbury explained, "It's too dangerous to go in. Hopefully, [the inspector] will be able to make it in far enough to make a determination."
The area quickly filled up with emergency vehicles from the fire department and the Seattle Department of Transportation secured the roads around the scene. The fleet of cars and trucks quickly congested the roads around Roosevelt and slowed the early morning commute significantly. While fortunately no one was hurt, it will be quite some time before the city's able to completely stop the fire and determine its cause.
Featured Photo: Firefighters working to put out the blaze. Photo by Conor Courtney