By Karinna Gerhardt
Karinna Gerhardt, one of The Roosevelt News' brave staff members, ventured to Seattle's Folklife Festival to report on the ups and downs of this eccentric gathering's cuisine. All photos are complements of Gerhardt.
Smelling of street food, various categories of smoke, and unwashed humanity, Seattle's annual Folklife Festival swept into Seattle Center over Memorial Day weekend. I went on Saturday, May 23rd, to sample all Folklife 2015 had to offer, from the greasy eats to the unparalleled people watching.
I started my day off light with a deliciously refreshing lemonade from the treasured Seattle hotdog shop, The Frankfurter. This classic Folklife beverage made up for a slight lack of sweetness with the authenticity that only comes when you plop an entire lemon right in the cup. Mmmm. Tangy. 4.5 stars out of 5.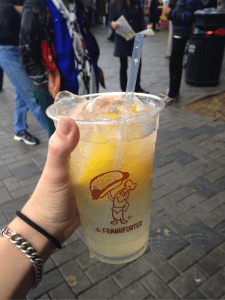 After I finished off my lemonade, I heard greasy Thai food calling my name. Thai Heaven's chicken satay, drenched in peanut sauce, became the appetizer to my stomach-destroying meal. However, the chicken's sketch-level was surprisingly low, and I barely regretted my choice at all. Savory and flavorful, the satay was probably the best thing I ate all day. 5 stars out of 5.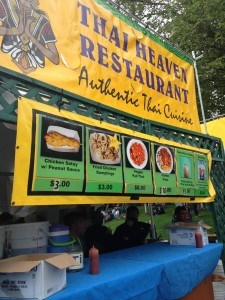 For an entree, I selected Hawaiian fried noodles from…Hawaiian Fried Noodles. Also, sweet and sour chicken, since I was on a poultry roll. Alas, my hopes and dreams fell flat as I ate the actual noodles which had an uncomfortable, gummy-like texture reminiscent of chewy candy and rubber. The sweet and sour chicken was 90% breading, and maybe 5% actual meat (the remaining 5% is unknown to even the savviest street-eater). The sauce tasted like sugary chemicals. I conquered just over half the plate before admitting defeat. 1 star out of 5.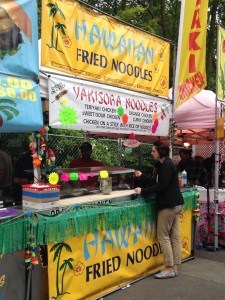 I had hit a hard spot with my unfortunate gummy worm/noodle choice, but I was confident that dessert would pull me out. Channeling the "clear-eyes-full-heart-can't lose" mentality, I approached Pennsylvania Dutch Funnel Cakes with minimal understanding of what a funnel cake actually is. Still, I decided to go all out for my final taste test, and ordered the "Ultimate Cake", topped with whipped cream and strawberries. There were some problems. For one, "strawberries" apparently translates to "red-dyed sugar sauce" in Pennsylvania. The syrup bled through the paper plate in minutes, and I was literally caught red-handed. It was also impossible to eat with a ridiculously flimsy plastic fork–personally, I prefer not to have to strategize over the mechanics of my dessert. The flavor itself was suitable, but the sheer difficulty of eating the damn thing was higher than the SAT. 2 out of 5 stars.