One of Roosevelt's clubs, Green Team, is getting their hands dirty to make Roosevelt and its community a greener place. The team is led by senior Catherine Hudson and their official goal is "to help teach and encourage Roosevelt students to be environmentally-conscious and help our community become a more eco-friendly, green place.​" They have done a wide range of projects from helping Roosevelt Students recognize different types of waste to helping remove invasive species and reviving barren areas.
In a recent project, Green Team created seed bombs in order to help improve parks around Seattle. Seed bombs are created by "putting dirt, clay, and water together with seeds." They can then "be thrown places and wildflowers will sprout," explained a Green Team club member, sophomore Kendall Barton. Even if seed bombs seem simple, they are especially helpful in areas where it may be difficult to plant flowers. Since seed bombs are wrapped up in a blanket of earth, which acts as a carrier for the seeds, this enables them to be launched in areas that are physically challenging to access. These can include, fenced-off wastelands or motorway banks, details The Ecologist, a prominent environmental website. Additionally they can make ugly and forgotten land useful again by restoring plant and wildlife populations while nourishing the soil at the same time.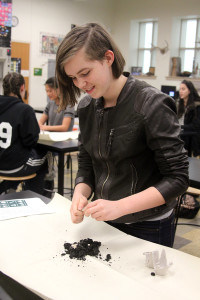 Another project that Green Team initiated a few weeks ago was at Golden Gardens in Ballard. They focused on removing ivy and blackberries, both invasive species, which destroy trees and other native plants. This is a prominent issue in Golden Gardens because "there's a part of Golden Gardens [where] the entire thing has been overtaken by blackberries which are climbing up the trees and killing them," said Barton. It is such a problem that the Green Team is considering doing another project in the future to help remove the ivy they didn't get on their first trip.
They aren't only focused on community outreach, but also educating Roosevelt students about the small changes they can make to help the planet.  Through this education, Green Team hopes to teach students about the importance of waste and how it can be minimized. Composting is an important focus since food scraps can either waste away in a landfill or find use as a nutrient-rich supplement for soil. Green Team "makes presentations, then goes around to classes" trying to teach the Students about composting and it's importance, commented Barton. They also have done waste audits to help identify how much waste was going in the wrong containers. For example, a recyclable bottle in the garbage or food scraps in the garbage instead of the compost. The aim is to help Roosevelt students make better decisions when it's time to toss a bottle, can, or food scraps.
Roosevelt's Green Team hopes that students will learn to cherish the planet everyone lives on, by producing less waste while being more sustainable. Although it's a daunting problem, they will tackle it head on, one flower at a time.   
---
Featured Image: (From left to right) Sophomores Lola Reinhardt, Natalie Hudson, and Sophia Modisette wokr on a project for Green Team. Photo by Allison Bullard