The Roosevelt Robotics team, the Iron Riders, recently competed in the FIRST Robotics Challenge at Mount Vernon during the weekend of March 18th. This was the second FRC competition the Iron Riders competed in during this season, reaching the quarterfinals in both. While the team may not have won their competitions, they did receive a notable award for their innovative software work with control systems.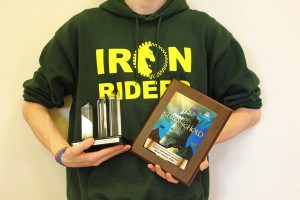 The Iron Riders have been a part of the FIRST (For Inspiration and Recognition of Science and Technology) organization's robotics challenges since 2011. "The way that our competition season works is that we have two competitions and based off those two competitions, it determines whether we're going to go to the next level of competitions," explains senior Aaron Jacobsen. "There are 36 to 39 teams per competition. There are schools from all over the Pacific Northwest. We had one from Alaska show up too," mentioned senior and Iron Riders president Marli Remash.  The Mount Vernon competition also featured neighboring high school teams from Ballard and Nathan Hale. After the competitions at Glacier Peak and Mount Vernon, the Roosevelt team hopes to make it to the District Championships, but is still currently waiting for the final results.
This season, FIRST teams competed in the Stronghold event prompting the Iron Riders development of their robot, Silver. Since the Stronghold even requires robots to shoot at high targets, the Iron Rider's managed to excel with automated shooting, meriting the only software award available at the event. "We made it so it was using visual recognition to target the goals we were shooting at. We got automated shooting down once or twice in the competitions and nobody else was really doing that so we got the award," commented Remash. The Innovation in Control Award is the robotics team's first event award. "Even though it's a robotics competition, the bigger part, according to FIRST, isn't winning; it's getting people interested in STEM [science, technology, engineering, and math] and getting those sorts of awards for being good at the engineering part," remarked senior Alex Rickert. Even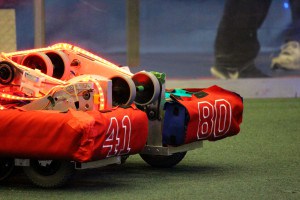 if the Iron Riders do not move on to compete in Portland, they will have still met the main focus of FIRST through their innovative six week build of their robot.
With a team full of seniors, the Iron Riders are happy to have had a successful season for many of the club's departing members. The team's leadership will soon be placed in the hands of younger members as the season quickly wraps up.
---
Featured Photo: Robotics cheers at the FIRST competition. Photo by Ryan Henrie