Last week, Seattle educators unanimously voted to go through with a strike during a union general membership meeting in Benaroya Hall. Seattle Education Association counts over 5,000 teachers, substitutes, aides, and office professionals among its ranks, and nearly all of them turned out for the vote. The crowd came alive with energy over the issues at play, including a fair living wage for teachers and guaranteed recess time for all schools. After the decision to strike was announced, exhilarated chants of "You have power!" could be heard resonating throughout the building.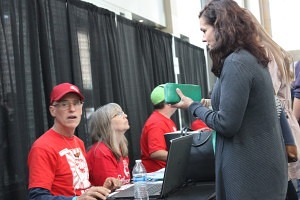 Union officials began preparing for a potential strike days before the vote commenced, so that teachers would be able to enter public demonstrations as soon as possible should the strike go through. "We ordered the picket signs today, just to be on the safe side," said WEA media manager Rich Wood, "6,000 of them."
Sunday, representatives from the school district and SEA sat down with a state mediator in one final attempt to reach a compromise and prevent a strike that could drag on for days. Although agreements were met on issues like recess lengths and substitute teacher pays, the negotiations didn't fully satisfy the two sides and SEA stuck to their plans to strike, indefinitely suspending school.
Negotiations have ended, Seattle teachers will go on strike Wednesday: http://t.co/uxNYoDp62f pic.twitter.com/k8ia6xiZwz

— The Seattle Times (@seattletimes) September 9, 2015

On September 8th teachers at Roosevelt walked out at 2:45, the end of the paid work day, to begin their strike. Once officially on strike, the teachers will not be able to re-enter the school, access their school emails, or complete any work to help prepare for the school year. Along with this, the Seattle Public Schools Board of Directors just voted to allow the Superintendent to go to court against the teachers which was met with disapproval by the meeting's attendees.
The last time teachers went on strike was 30 years ago, in which the strike lasted 3 weeks.

— Ballard Talisman (@BallardTalisman) September 9, 2015

Many have rallied behind the teachers, including City Councilmembers like Kshama Sawant and Nick Licata who all argue the union's demands are in the teachers and students' best interests. Many parents have also voiced their support, both on social media and at pickets where they marched alongside teachers. However, it seems not all are behind the educators. "[I] can't see how additional instruction time is bad for education, so this boils down to more pay which was offered and rejected," argued a Facebook commenter on one of the SEA's posts, "Don't hold our kids hostage."
Featured Photo: Roosevelt's teachers educate the building for the last time until the strike ends. Photo by Allison Bullard