Looking for your weekly serving of sports? We've got all of the fall teams' highs and lows right here!
Boys' Water Polo
Leigh Kiker
For fans of the boy's water polo team, there's some bad news. Of the three games they played this week, (Bellevue on Monday, Sammamish on Wednesday, and Curtis on Thursday) they lost two. Fortunately, the two that they lost did not go on their record so Roosevelt's boy's water polo team keeps its winning streak. On Monday, they played against Bellevue and won 10-7, continuing their winning streak. Though on Wednesday, they lost 9-7 against Sammamish due to only half of their team being able to attend the game. This continued Thursday when they lost 19-9 to Curtis. Senior Wilson Ives thought their final and most devastating loss was partially due to the fact that they had no official goalie (other team members had to step in), and the fact that Sophomore Jake Gordon was "rolled", meaning he got 3 ejections, and the team had to play one man down. Ives seemed to think the fact that the team played in Curtis (a 3 hour drive round-trip) didn't help their moods. They returned to Curtis again this weekend for a tournament. Short a man, they managed a solid fourth-place finish. This coming week, boys' water polo has two games, both at Madison pool at 8:30 pm against Newport (Tuesday) and Inglemoor (Thursday).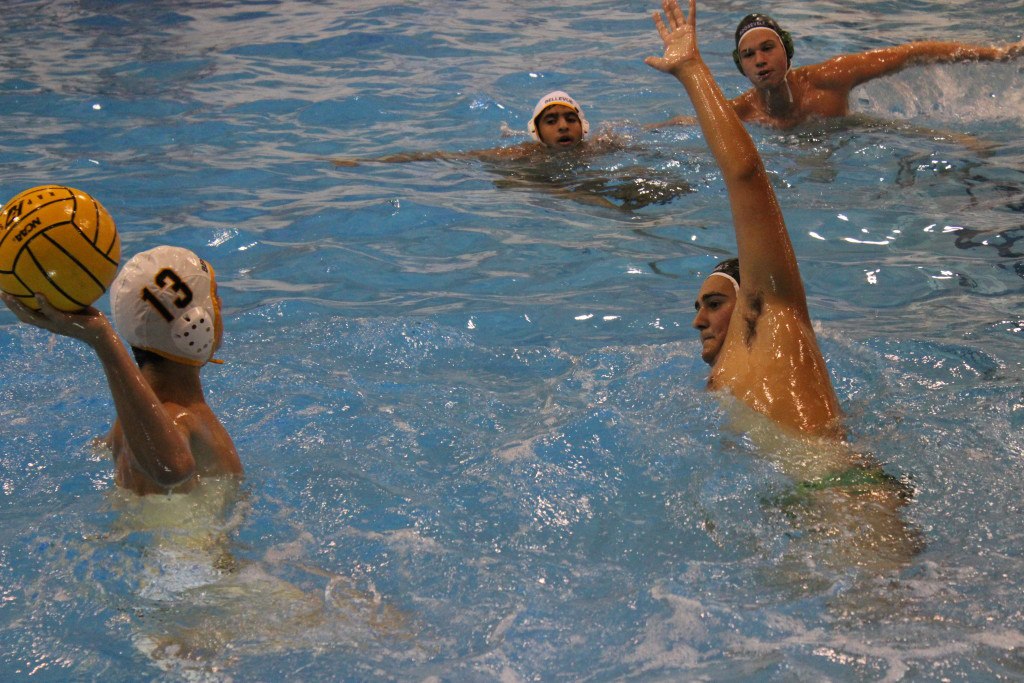 Boys' Ultimate
Conor Courtney
The boys' ultimate team headed into the week as the #1 overall seed in the SPS league playoffs and they lived up to their ranking. In the league quarterfinals on Wednesday, they crushed Chief Sealth 13-8, without senior captains Noah Kregenow and Kai Marcus. In the semis on Friday however, their opponent, Ingraham, gave them a run for their money. Roosevelt struggled to succeed defensively during the game, and only late in the first half were they able to convert defensively. Despite this, they still looked dominant for the most part; their offense scored without trouble on multiple occasions, and their defense came up big when they needed them in the second half. The Riders pulled out the victory 11-10, and go into this week preparing for their league championship game against Franklin on Wednesday, a team they lost to in the Seattle Invite finals last Sunday. By beating Ingraham, they secured a spot in the DiscNW district playoffs, which is popularly thought of as more difficult to win than the state playoffs. Another positive sign for Roosevelt is the return of sophomore Josh Kutz, a handler who left a big gap to fill ever since he was injured in the beginning of the season. He will be returning for Wednesday's finals.
Girls' Swimming
Olivia Capestany
This past Friday, the Roosevelt girls swim team had a triumphant victory over Chief Sealth and West Seattle. "We won!" Sophomore varsity swimmer, Louise Daigneault exclaimed. The girls made the trip out to West Seattle Friday afternoon to swim against the conjoined high school's swim team. Unfortunately, due to West Seattle and Sealth's small team, only a few members were able to compete.  Roosevelt outnumbered their team by a lot, so their goal was not to beat them by a lot. Rather, they aimed for all the swimmers to strive for their personal best time. The meet was a fun one to watch, and the swim team performed well. Next Friday, it will be the last home meet and senior night.
Football
Vasili Varlamos
The Riders won 43-25 against the Cleveland Eagles this past Friday, giving them a perfect 4-0 league record for the year. The Riders faced some adversity in the first half and they actually went into halftime down 17-15. Then in the second half, the Riders scored 21 unanswered points and took the game away from Cleveland. Senior Mayan Chavez passed for 70 yards in the game and two touchdowns, including a 44 yards pass to senior Michael Buyco that resulted in a touchdown. Senior Dane Rogerson ran for 157 yards and had three total touchdowns and senior Noah Gold also ran for a touchdown in the game, while Buyco led the game in receiving yards with 53 as well. This win means that the Riders will meet rival Ballard in the city championship in their next upcoming game. Then if they can get the win in the city championship, the Riders will have a chance to win the Metro championship. In addition to this victory, the JV riders trampled the Garfield JV 41-20 while JVC lost a tough one against Seattle Prep JVC 22-14. It's sure to be a very interesting next couple weeks for Rider football.
Girls' Soccer
Silas Miller
Roosevelt's varsity team demonstrated their dominance once again this week with a decisive win against the Ingraham Rams on Tuesday, finishing out at 5-0. Then on Thursday, they took on Bishop Blanchet, with whom they tied 1-1. Their last game against Blanchet, in September, was won 3-2. JV mirrored varsity's control over Ingraham with another shutout of 4-0 on the same day. Unfortunately, they didn't fare as well against Blanchet, but finished the week off with a victory against Bothell 1-0. JVC continued their hard work this season with an exciting game against Ballard on Friday. Next week, varsity has two home games against Rainier Beach and Franklin – both teams that Roosevelt has utterly destroyed this season. These games will be played at Magnuson Park at 3:30 on Tuesday and Thursday.
Boys' Cross-Country
Ira Rose-Kim
In the final league meet of the year, Roosevelt had a lukewarm showing. They took 5th among six other schools, Ingraham, Ballard, West Seattle, Garfield, Nathan Hale, Chief Sealth, Cleveland, Rainier Beach, and Franklin. The team was led as usual by junior Jack Bylund who took 9th place with a time of 16:49. He was then followed by freshman Diego Berho in 17th, senior Ira Rose-Kim in 30th, and juniors Andrew Moore and Thomas Hinds in 34th and 37th respectively. The JV squad took second behind Nathan Hale, with sophomore Jackson Morgan decisively taking the race in 18:31. The team has only a few more days to gear up before the Metro championship this Thursday at Lower Woodland were they will also face many of the heavy-hitters absent from last week's meet like Bishop Blanchet and Bainbridge. They'll have to seriously up their game if they hope to earn their bid to Districts which would require a 9th place finish or better for the team. Hopefully, Roosevelt will prevail and start making their way through the post-season.
Volleyball
Julia Swanson
This week, Roosevelt volleyball took on two schools: Nathan Hale and Ingraham.  Seeing as both schools are in North Seattle, many riders faced long-time acquaintances on the opposite side of the court. During the Nathan Hale game, both JV and Varsity won easily. Sophomore Lucy Black, a player on the JV team, was forced to block Alex Johnson, a member of the Nathan Hale JV and one of Black's best friends, in the name of Roosevelt. The results were similar for the Ingraham game: both JV and Varsity walked away with a victory. JV ended the final match with a score of 25-11. Roosevelt has been leaving a trail of tears this season, dominating almost every team they come across. Their victory string has put JV #1 and Varsity #2 in current Metro League standings. With the momentum they've been building, we should expect high hopes for this year's volleyball playoffs.
Girls' Cross-Country
Ana Jurca
This week was less busy than usual for the women's cross country team. Last Wednesday, they competed against Nathan Hale, Ingraham, Ballard, Franklin, Garfield, West Seattle, Chief Sealth, Cleveland, and Rainier Beach at Lower Woodland Park. Because of the large amount of runners, races were split into varsity and junior varsity for once. Varsity took fourth place, with juniors Jane Barr and Anna Larson taking 14th and 16th respectively. Senior Emily Cohen followed closely behind in 20th place, along with sophomores Sophia O'Hara and Sammie Cohen in 21st and 22nd. The JV team took third place, with seniors Alexa Homchick and Juliana Kodama placing 5th and 6th. Freshman Genevieve Symons placed 9th, sophomore Anna Galbraith placed 12th, senior Sophie Moynihan placed 14th, and sophomore Connie Bernard placed 15th. Next Thursday, the Riders will be racing at Metros, which will also be at Lower Woodland Park. The open JV race starts at 2:15, varsity starts at 3:00, and top JV starts at 4:10.
Golf
Jonathan Kent
Roosevelt golf played their final match of the regular season this week against Cleveland High School at the West Seattle Golf Course. Cleveland was one of the lowest ranking Metro league teams this season with only one win against Franklin High School. The Roosevelt boys didn't have a hard time maintaining their flawless record as they beat Cleveland 122 to 21. "I was able to get par on almost every hole except for a couple when I hit bogeys," commented junior Isaac Brighton. "The coaches still want us to keep working on our short game," continued Brighton. Despite a great conclusion for the regular season, Roosevelt's golf coaches still want players improving in preparation for more challenging post-season matches. Tuesday's match also allowed the Roosevelt girls' team to finish the regular season on the top of the standings. Roosevelt girls easily added another win to their record, beating Cleveland 94 to 13. The girls' team's tenth win made them tied with Bainbridge High School and Holy Names Academy since they conceded one loss to Eastside Catholic early in the season. With both Roosevelt girls and boys leaving the regular season with first place finishes, the teams are ready for the challenging post-season.
Featured Photo: Senior Jackson Simone warms up before Roosevelt takes on Overlake. Photo by Conor Courtney