Looking for your weekly serving of sports? We've got all of the fall teams' highs and lows right here!
Golf
Jonathan Kent
This week, Roosevelt Golf matched up against Nathan Hale on Wednesday and against Bishop Blanchet on Thursday. Roosevelt players confidently went into Wednesday's match and with good reason: The Roosevelt girls' team was able to pick up their eighth win of the season, beating Hale 99 to 19. The undefeated Roosevelt boys' team was also able to easily beat Hale with a score of 141 to 94. The next day was the golf team's "Super Fan Day" as they played Blanchet at Jackson Park Golf Course. The team offered free hot dogs, chips, and drinks to Roosevelt fans, drawing a large crowd to the match. Despite a few etiquette errors by the spectators, the day went well as Roosevelt defeated the second-ranked team in Metro League. Roosevelt boys outscored Blanchet 156 to 131. The girls team also left the fans jubilant with a 111 to 72 win. "Our positive mindsets give us a more hopeful outlook," commented junior Ryan Matz. "I think to be a great team, we have to have great leadership and attention to detail. We still have a long way to go. We're still learning," continued Matz. Roosevelt hopes to continue their winning season with one more regular season match against Cleveland High School this coming week.
Boys' Water Polo
Leigh Kiker
The boy's water polo team played yet another amazing game this week. They won 14-13 in an overtime match against Mercer Island at Madison Pool on Thursday. Senior Rusty Farivar said, "We played without a crucial starter, down 5-1 after the first quarter, but came back to tie Mercer Island in the last minute and ultimately win 14-13 in overtime, improving to 6-0 which I believe is our best start in team history". This week they're playing three games—the first one on Monday against Bellevue at Madison Pool, the second one on Wednesday against Sammamish, and the third one on Thursday against Curtis High School at the Curtis High School Pool. Whether or not our boy's water polo team will remain undefeated has yet to be seen, but they've certainly shown no signs of letting up.
Boys' Ultimate
Conor Courtney
Boys Ultimate had a busy week. They started out by beating Ballard on Wednesday and then took down Rainier Beach on Friday. The team then headed to the Seattle Invite, which consisted of some of the best teams in the Northwest. Despite a difficult 20mph wind and driving rain, they managed to go 4-1 and take the second seed in their pool. The team had a tough challenge in the quarterfinals, but dominated their rival Nathan Hale 11-6 thanks to stand out performances by freshmen Dylan Baker and Coen Demaranville. Demaranville said it best after quarters: "It's really cool being on the best team in the league." As senior Caleb Dinino-Childers noted, "We succeeded having shutdown handler defense, and used the open space well." In the semis, Roosvelt took on the #6 team in the country, the Northwest School. Senior captains Conor Courtney and Noah Kregenow set the tone early with a full field huck, and eventually won on universe point 11-10. However, the Riders ran out of gas in the final, their fourth game of the day, and lost to Franklin 13-7. They go into playoffs next week having solidified their position as one of the top teams in the state.
Girls' Swimming
Olivia Capestany
On Friday the 19th, the Roosevelt girls' swim meet against Lakeside was very intense.  It was the biggest meet of the season, so the pressure was on. Last year, it was the only meet that Roosevelt lost, in an otherwise undefeated season. Moreover, Lakeside also won state the year before. Both of the girl's teams fought hard, but eventually, Roosevelt lost. The final score was 100 to 80. The close finish made the meet extremely interesting. " It was one of the more exciting meets of the season," sophomore swimmer, Ruby Powers said. Despite the defeat, Roosevelt will continue to persevere all the way until Metros in two weeks.
Football
Vasili Varlamos
This past Friday, the Roosevelt Roughriders had a triumphant victory over the Garfield Bulldogs 47-13. It was senior night for the Riders and what a night it was. The riders dominated all aspects of the game and there was really no contest throughout. The game was out of hand by halftime as the Riders were up 41-7. The Riders' offense was outstanding as senior Mayan Chavez had three touchdown passes, including a 78 yard pass to senior wide-out Cole Ryseff. Seniors Michael Buyco and Dane Rogerson both ran for a touchdown as well. The defense played great against the struggling bulldog offensive by only allowing the bulldogs to score two touchdowns. The Rider defense forced 5 turnovers and a safety in the game, including interceptions Buyco, Ryseff and senior Sean Suver. This win gives the Riders a 3-0 record in the league and makes them division champions. Now, they'll head off to play in the crossover game against the winner of the Valley Division. The Riders still have to play one more regular season game, Friday, against the Cleveland Eagles. In other news, the JV riders were beaten by the Bothell Cougars 44-6 and JVC were beaten 51-12 by O'Dea.
Girls' Soccer
Silas Miller
Roosevelt's varsity team won both of their games this week. On Tuesday, they defeated Garfield at Memorial Stadium with a score of 1-0. They also won against Bainbridge on Thursday, again winning 1-0. Varsity's 6-4-1 record provides them with a nice base to continue playing well. JV soccer played the same teams as varsity this week, tieing 1-1 against Garfield and beating Bainbridge 2-0. Roosevelt's JV squad has maintained a solid record this season, currently at 6-1-3. With all the momentum they've built up over this season, JV can be expected to continue to excel in the high school soccer scene. JVC continued their hard work this season with an exciting game against Roosevelt's rival, Bishop Blanchet, on Thursday, which unfortunately ended in a loss for Roosevelt. Next week, you can catch Roosevelt's home games at 7:00 on Tuesday (Varsity vs. Ingraham at Memorial Stadium) or at 3:30 on Thursday (Varsity vs. Blanchet at Magnuson Park).
Boys' Cross-Country
Ira Rose-Kim
The boys' cross-country squad took on Seattle Prep, West Seattle, Ingraham, and Ballard at Lincoln Park this past Thursday, However, the team didn't truly compete; rather, they ran the race at a more relaxed effort in order to prepare for Saturday's race at the Hole-In-The-Wall invitational at Lakewood High School. The invite was struck with heavy rain and relentless winds, but smart racing helped the riders overcome these setbacks. There were many races that Saturday and Roosevelt had strong performers in all of them. Freshman Diego Berho won the first flight of JV Frosh/Soph with sophomores Graham Fulton, Elliot Jones, and Aidan McCoy not far behind. The squad took second out of eleven teams. Juniors Thomas Hinds, Gabriel Sanchez, and Ross Branch placed in the top 15 for the first open JV flight while juniors Matthew Gasper and Tannim Bradley-Kurtila took 12th and 13th respectively in the second flight. The teams took 6th in both of these heats. In the second varsity flight, the varsity squad took 3rd with junior Jack Bylund leading the team. Bylund and Senior Nathan Smith both placed in the top 15, capping off an excellent day of racing. The runners will take on Ingraham, Ballard, Franklin, Garfield, West Seattle, Cleveland, Rainier Beach, and Chief Sealth this coming Thursday before they compete at the Metro championships where they're still only seeded 9th.
Volleyball
Julia Swanson
This week, RHS Volleyball can be summed up in one word: Victory. Varsity played Chief Sealth and Rainier Beach, beating both teams in all matches played. The same goes for JV, playing the same teams and earning the same wins . That totals to 8 official set wins for RHS Volleyball this week. However, there was some drama accompanying  this week's wins. In the JV game against Rainier Beach, an opposing player got a red card, and was ejected from the game. This was many players' first time seeing a red card, for they are very rarely used throughout volleyball. She supposedly got the red card for messing up substitute rotations and having a hair tie on her wrist, according to sophomore Lucy Black, middle hitter for the JV team. In the end, JV ended up winning the unofficial third set of the match 15-0, another rare phenomena of volleyball. Additionally, during the Varsity game against Rainier Beach, more card-playing occurred. The coach of the Roosevelt team got a yellow card, for arguing with the referee over a comment Captain Abby Wolfe made.  Overall, this week resulted in many victories, and a little bit of controversial excitement for the Roosevelt volleyball team.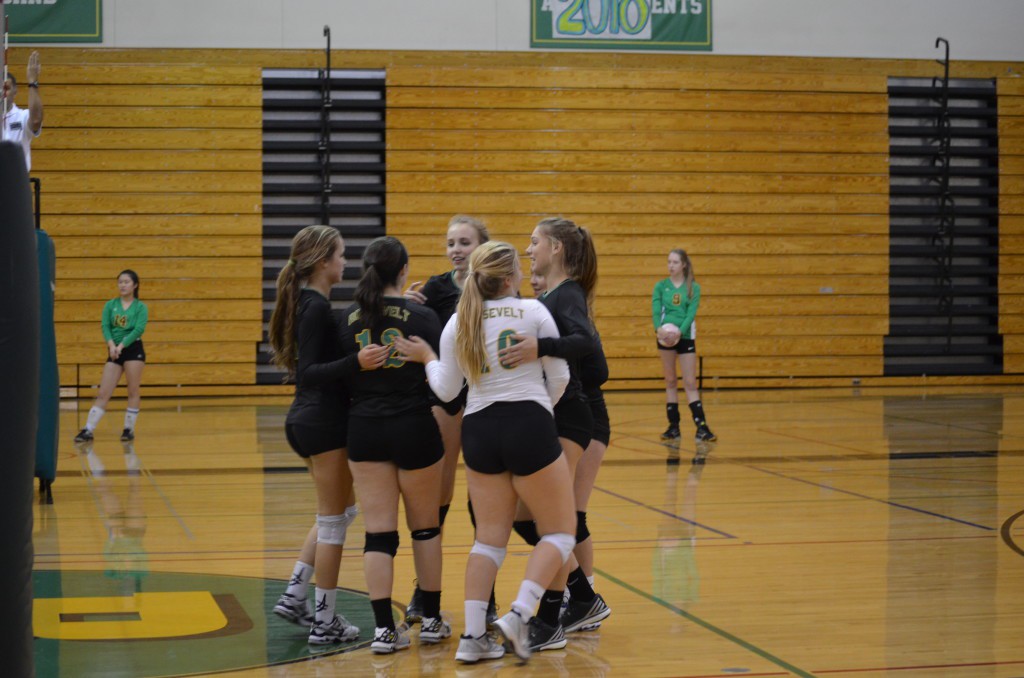 Girls' Cross-Country
Ana Jurca
This week was another busy week for the women's cross country team. On Thursday, they ran at Lincoln Park against Seattle Prep, West Seattle, Ingraham, Ballard, and Rainier Beach. However, because of the Hole in the Wall Invitational two days later, the Riders made sure to take the course as more of a workout than a race. At Hole in the Wall in Lakewood, WA, the cross country girls battled the elements. Faced with torrential rain and an incredibly slippery course, the girls still managed to fare well. In the third JV flight, Roosevelt placed third with freshman Grace Brown placing 11th with a time of 24:56. In the second JV flight, they placed 6th with freshman Genevieve Symons placing 22nd with a time of 23:25. Finally, in the third JV flight, they took 4th: sophomore Sammie Cohen snagged fourth place with a personal record of over a minute, timing 21:08. Freshman Dani Lockert placed 11th in that same race with a time of 22:04, with freshman Evelyn Thompson following close behind with a time of 22:27 in 18th place. In the first varsity flight, Roosevelt did not finish as strongly as the top two runners had to leave the race unfinished due to hydration and fatigue. However the team still took 19th out of 33. The team's next meet will be Thursday at Lower Woodland Park against Nathan Hale, Ingraham, Ballard, Franklin, Garfield, West Seattle, Cleveland, Rainier Beach, and Chief Sealth. The first race takes off at 3:40 pm.
Featured Photo: Savannah Rankin at Roosevelt's golf game against Nathan Hale. Photo by Ruby Hale