It may be the coldest time of the year, but Roosevelt's winter teams are on fire! Read how they're doing here!
Wrestling
Ira Rose-Kim
This Saturday, the wrestling team had their first competition: the annual Roosevelt Takedown Tournament. Many schools came to Roosevelt to participate in the informal meet. Rather than the usual brackets, wrestlers were placed in groups of four and would rotate opponents within that group. Also, matches lasted only two minutes and were limited to takedowns and pins from the neutral position as opposed tot he normal six minute matches. There were no official team scores and the event served as a great way to open the season with hard, but limited wrestling against other teams' athletes.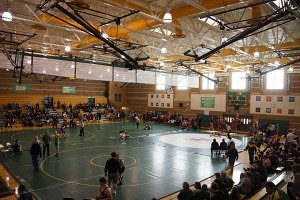 Senior and captain Matt Dickenson commended the freshmans' performance at the meet: "They showed some real heart, they dominated some kids." Their next meet will be at Roosevelt against West Seattle and a undetermined team.
Boy's Basketball
Joey Rasmusson
On Saturday,  November 28th, Roosevelt basketball team had a jamboree at Chief Sealth in which they played Decatur High School and Hazer High School,  both non-conference schools.  Both varsity and junior varsity played in two 10 minute games with varsity beating Hazen 18-8, but suffering disappointing loss to Decatur with 10-18. Junior varsity beat Hazen as well with a score of 16-4 and lost to Decatur with a close 22-26. "We did a good job with physical effort in our games,  but we lacked some mental toughness that led to costly mistakes," Junior Gabe Spach noted.  Again,  the team is faced with the fact that they're younger and less experienced than years before, however Spach feels that "we have the ability to be as good as last year's team if we just work harder".  Roosevelt is scheduled to play West Seattle at West Seattle on Friday, December 4th.
Featured Photo: Senior Trygve Groh squares off against an opponent. Photo by Conor Courtney