It may be the coldest time of the year, but Roosevelt's winter teams are on fire! Read how they're doing here!
Wrestling
Roosevelt wreslting hasn't let up since the start of the season and they've come away from some of the most grueling meets of the season with impressive results. They had two tournaments over break: The Barry Knott Classic at Nathan Hale and the Bryan Hill Tournament at Eastside Catholic. They took fourth and third respectively as a team. At the Renton Holiday Duel Tournament where Roosevelt wrestled exclusively as a team as opposed to the usual bracket structure, Roosevelt beat Skyline 39-31 and Hazen 45-33. However, they suffered a close loss to Hoquiam 40-36. This past Thursday, Roosevelt had their senior night as they crushed Eastside Catholic 68-6 and Cleveland 70-0. This made for an energetic evening as the team celebrated both their graduating class and their victories. This past Saturday, the 9th, they attended the Shoreline Tournament at Shorecrest High where they took fifth. Senior Matt Dickenson won Shoreline in addition to his earlier win at Barry Knott; he now has three tournament wins for the 2015-16 season. Juniors Conrad Austin, Eli Teagle, and Spear Kajumulo also won their weight classes at Shoreline.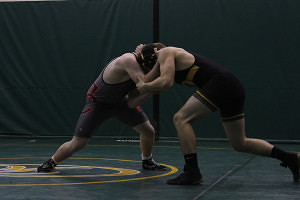 Boys' Swimming
The Roosevelt men's swim team had a rough week back from break with tough competition from Garfield. The official score hasn't been released yet from their meet last Friday, the 8th. Senior swimmer Nate Errez feels that the Riders weren't connected as a team, but certain athletes really stood out for their personal skills. "We had some good individual performances like [junior] Emmett Wayte cruising through to win the 200 free, but Garfield as a team was much stronger,"  according to Errez. Since there isn't a meet for this upcoming week, practices will be more intense and will push the team harder. This will give the team a chance to strengthen their performance as a whole and get psyched for the next meet. The Riders always have an upbeat attitude, so they will take this last  meet and use it to find where they can fortify their abilities and come back even stronger for Metros. The team is working hard to be ready for the Metro meet  and are hoping to end the regular season on a high note. Their next meet will be on the 22nd at West Seattle against West Seattle and Chief Sealth.
Gymnastics
At a club gym in Kent, Roosevelt's gymnastics team worked to maintain its strong season as it competed against Holy Names, Bellingham, West Seattle, Chief Sealth, and Nathan Hale. While the team ultimately took third at the event with senior Claire Schwartz placing in the top ten in two events and all-around, many girls reflected on the meet with dissatisfaction. This, explains junior Rachel DeJean, was largely due to the fact that since there were so many teams in the smaller club-gym environment, "only six people could compete on each team instead of the usual ten." DeJean adds that this proved "disappointing to those who couldn't compete." This decrease in athlete opportunities especially impacted girls on the JV team, since typically the top six performers (predominantly varsity gymnasts) for each event compete with JV athletes taking the final four spots. With the final four spots removed, JV athletes had few opportunities in this latest meet. Despite these minor frustrations, the team is maintaining an overall positive attitude: "We have improved as a team and are continuing to do so," reflects senior Zoe Nelson, one of the team captains. The team is currently prepping for their next meet which will be held at West Seattle High on Friday the 15th and senior night, which will be a home meet taking place on Tuesday the 19th.
Boys' Basketball
As the season goes on, the Roosevelt basketball team continues to push for wins. The team went down to a tournament held in San Diego over winter break where they played against 4 teams. The first was a sizable loss of 60-46 followed by a devastatingly close loss of 41-38. During the third game, the team was able to pull a win of 58-52. Sadly, the team lost the final game of the tournament. "We have been making some good strides as a team and picking up the intensity in practice, but it's not showing up in all four quarters yet," says Junior Gabe Spach. In a home game last week against Rainier Beach High School, Roosevelt suffered a devastating loss of 81-44.  Captain and senior Jonathan Lang attributed their loss to Rainier just being a "more athletic team". "[We] weren't doing the little things correctly," Lang stated. The team has a few recurring issues, but one that seems to be most prevalent is the team as a whole "not [being] patient". Roosevelt played another game against Ballard in which they lost in a closer 41-53.  Lang had more to say in that: "They shut me down, and I'm typically the one that scores the most." This forced them to practice a different allotment of responsibilities for the team. In the face of these two losses however, Lang believes, " We have a lot of games ahead of us that we can win." When asked if things looked optimistic he responded with an enthusiastic affirmation. Roosevelt's next game is a home game against Bishop Blanchet on January 12th. Junior Varsity is playing a home game as well against Franklin on Friday, January 22.
Girls' Basketball
Despite some minor setbacks, Roosevelt's girls' basketball team continues to do well. On the 29th of December, they played Tahoma High School. The final score was 35-53; an end to Roosevelt's six-game winning streak. This loss was followed by two major victories. The first, against Rainer Beach, took place on January 6th. Roosevelt had a difficult game, trailing by 6 points at the end of the half. But by the time the third quarter rolled around ,they were able to get back on top, securing a victory with a score of 37-32. The next game was held two days later against Ballard. This victory came easier to Roosevelt: they dominated every quarter and finished the game 42-36. Roosevelt's next game will be against Bishop Blanchet. It will be held at Roosevelt on January 13th at against Bishop Blanchet. Two days later, they will play Garfield, also at Roosevelt. As a whole, the team is doing quite well this year and they are ranked second only to West Seattle in the total division standings. They currently have seven wins and only three losses.  
Featured Image: Roosevelt's senior wrestlers pose at their senior night last Thursday. Photo by Ruby Hale