It may be the coldest time of the year, but Roosevelt's winter teams are on fire! Read how they're doing here!
Gymnastics
Sophie Aanerud
   In a gym featuring 60 girls from eight Seattle-area high schools, nine athletes from Roosevelt's gymnastics team flipped and balanced their way to a strong Metro Championships showing. Five Roosevelt gymnasts qualified to participate in February 13th's District Championships. Senior and co-captain Claire Schwartz will be competing in all the events, sophomore Lola Reinhardt and freshman Catie Dutton each qualifying in three events, and junior Rachel DeJaen and freshman AnnaRose Becket-Herbert will each be participating in one event at Districts. Schwartz sees the individual successes at Metros ultimately as team successes, "I think we struggled a little bit in the beginning to get our team score up, but we eventually did and everyone improved, and we're excited to send the 5 girls to districts!" With the season coming to a close, many team members are now reflecting on a challenging, but ultimately rewarding season. Co-captain Zoe Nelson sees the team's improvement throughout the season as a positive precursor for next year: "It's been a really great season. We started off with a lot of potential and it was exciting to see everyone's hard work pay off with all the new skills, I also think next year is going to be a really strong team with everyone continuing to improve." While long term goals still loom, the team's current focus is directed towards next Saturday's Districts, where the five remaining gymnasts will continue to make Roosevelt proud.
Boys' Basketball
Joey Rasmusson
As the final week of basketball ensues,Roosevelt High School basketball is performing better than they've been in weeks prior. In the past week, Roosevelt played against two teams: Ingraham and Lakeside. The game against Ingraham brought a huge blow to morale, says sophomore Finn Festor. "We had an 18 point lead which we blew to lose by 2," said Festor. The season has been a tough one in terms of their standings in metro, making this, Festor feels, a tough loss for the team. However, in Roosevelt's previous game against Lakeside, they lost by a much more sizable amount. The game was consistent with their matches prior, in that Roosevelt lost, trailing far behind Lakeside. A Lakeside senior, Isiah Brown, scored 33 points for his team, solidifying the team's already large lead with a final score of 61-47.
Girls' Basketball
Nate Sanford
The Girl's Basketball team continued their exciting season with two more games this past week. On February 3rd, Roosevelt played Lakeside in a close game that ended 43-53. Two days later, they secured a massive victory over Ingraham 66-23. Roosevelt is still ranked 4th  in metro, with thirteen wins and six losses. They're still ranked behind West Seattle, Bishop Blanchet, and Lakeside. The team is now in the postseason. Last night, they played Cleveland and took the game 63-58. This means they'll progress through the postseason and play West Seattle tomorrow night at West Seattle.
Wrestling
Ira Rose-Kim
This last week, Roosevelt wrestlers traveled to Nathan Hale high school for the Metro Championships on the 5th and 6th. There air of excitement that normally followed the team had considerably calmed. Even though they were dual meet champions, they were missing key players, complicating their bid for a victory at the tournament. Junior Rory Hayashi, who led the team with wins, had fallen ill and had to be replaced. Never the less, they proved to be formidable opponents for the rest of Metro. Many wrestlers will highly-ranked and moved on to the finals after only one match their first day. The team unfortunately lost another strong athletes as captain and senior Asher Charleston had to drop out due to injury. The next day proved much more tense as wrestlers prepared for their finals. Seniors Nathan Forst came in second which was followed by a well-deserved win for captain and senior Matthew Dickinson who had one of the team's most impressive records that season. Captain and senior Erik Choi suffered a narrow loss in a match against O'Dea that ultimately went into overtime. Captain and senior Trygve Groh took his second metro title after returning from an injury only a few weeks prior. Juniors Conrad Austin and Eli Teagle also fell in their finals, though both avoided getting pinned. Freshman Tony Chen had a particularly exciting bout, challenging Nathan Hale's Martin Chavez who was latter named the Lightweight Wrestler of the Year. While Chen was ultimately defeated in the second period of his match, he displayed skill that more than verified his potential for the rest of his career. The regional championships next week will determine who travels to state and many wrestlers are eager tot return or make their first visit. While Choi lamented his loss earlier that day, he explained that his opponent certainly "wanted to win" and Choi would be more than prepared to challenge him again at regionals for the title.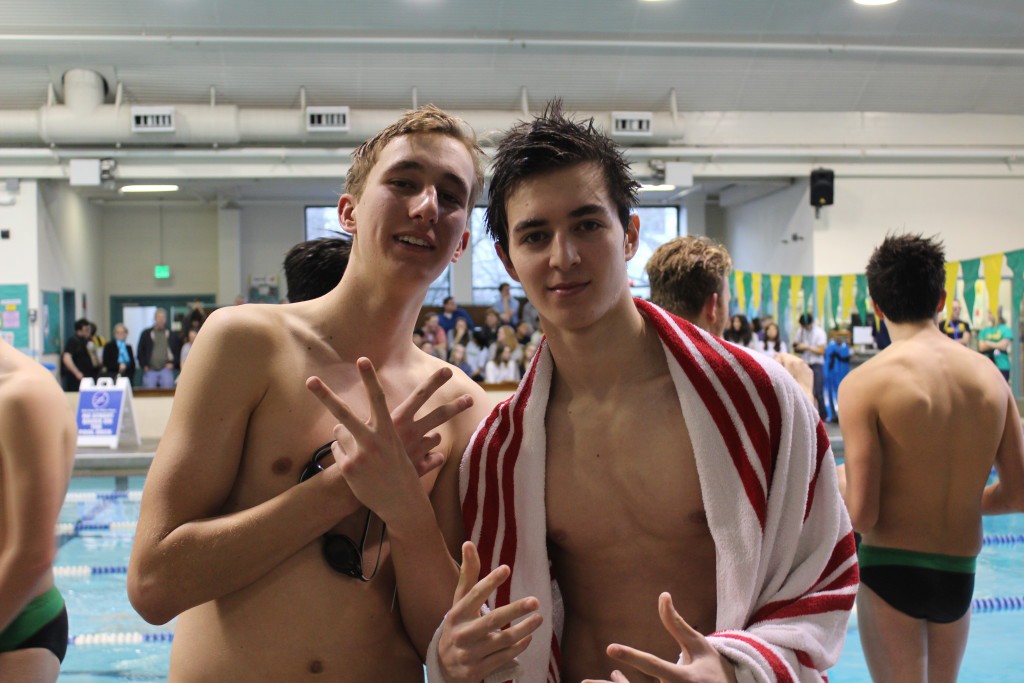 Boys' Swimming
Jess Flynn
Roosevelt's boys' swimming is now entering their post season. The anticipated Metro meet started on Friday the 5th and continued to Saturday the 6th. "[It] went swimmingly," notes coach Chris Holland, "We had the individual swimmers qualify for state. We also qualified for State with two different relay swims." The whole team was pumped for metros and brought their A-game, especially freshman Gavyn Brayman, senior Wilson Ives, sophomore Cooper Arnett and junior Emett Wayte who all swam races that put them in Roosevelt's all time top ten performances in their respective events. These swimmers have worked hard all season long and had it pay off at metros along with many other swimmers who had reached their personal best times. Holland expressed that the team is excited to have had such successful performances, but are now setting their sights on qualifying for a third and final really for state at the Sea-King meet this coming weekend. When reflecting on the season, Coach Holland was especially thrilled with the performance of a certain swimmer: " Emmett Wayte is at least the number two all-time swimmer at Roosevelt and is making the play to be Roosevelt's best ever." Wayte currently holds the record for the 50m Free at 22.04 seconds and for the 100m Backstroke at 52.59 seconds. He has started and is ending the season strong. "I am sure he is aiming to win," says Holland about Wayte's goal for State.
Featured Photo: Senior Matt Dickinson wins the metro title at 182 pounds. Photo by Conor Courtney.