Looking for your weekly serving of sports? We've got all of the fall teams' highs and lows right here!
Women's Cross-Country
Ana Jurca
The women's cross country team had a bye this past week, so energy was focused on the Tomahawk Twilight Invitational in Marysville on Saturday. The invitational took place on a golf course, home to rolling hills and thick grass perfect for spikes. About fifty schools were represented. The majority of the girls ran in the untimed Open Race, which combined boys and girls. A team of seven freshmen and sophomores ran in the Frosh-Soph race, with sophomore Sammie Cohen and freshman Dani Lockert leading the Roosevelt group. In the Junior-Senior race, junior Natalie Kauper and senior Ana Jurca placed 9th and 10th, each setting personal records by 20 to 30 seconds. Kauper said, "I felt really good this race. I was tired before we started but I was able to maintain a positive mindset during the race, which is key in cross country". In the varsity race, senior Helen Schuda and juniors Anna Larson and Jane Barr were able stay towards the front in the competitive race. Seniors Flora Davis and Emily Cohen both set personal records in the race, as well as juniors Sophia O'Hara and Isabella Glenn. The team's next race will be this Thursday October 8th at Lincoln Park against West Seattle, Ingraham, Seattle Prep, Ballard, and Rainier Beach.
Golf
Jonathan Kent
Roosevelt golf had another winning week, beating both Lakeside and Chief Sealth High School. Before playing Lakeside on Tuesday at Jackson Park Golf Course, the girls' golf team was ready to win. "I feel like the whole team will do amazing. I'm confident in our team. We all connect better than we used to, we're closer, and we're playing better because of it," affirmed sophomore Brigit Brady. The Roosevelt girls were able to win with 95 points over Lakeside's 70. The Roosevelt boys' team was able to continue their winning record by beating Lakeside 142 to 132. On Thursday, Roosevelt played Chief Sealth High School. It was no surprise when Roosevelt took the win as the boys' team won 122 to 28. The Roosevelt girls were also able to come away with a victory, outscoring Chief Sealth 81 to 20. "We have a lot of good people this year. We have amazing guys, and we have a lot of great girls that are new this year," noted Junior Maya Hunter. Both the guys and girls hope that their winning records can bring more Roosevelt fans out to see them play.
Boys' Water Polo
Ira Rose-Kim
Compared to last week's hectic schedule, the boys' water polo team had a relatively relaxed schedule this past week. The riders thrashed Shorewood at Helene Madison pool last Thursday. They won 16-8 and were leading the by 6 points at the half. The team has still gone undefeated in league matches and is set to continue their excellent season. Next week, they have an away game at Mercer Island, another top team. At this rate though, it'll take quite a lot to stop Roosevelts' boys.
Boys' Ultimate
Conor Courtney
The Roosevelt boys' ultimate team continued their dominant season this week. Led by captain Noah Kregenow, they beat league rival Garfield 10-8 as well as Ingraham 11-9. They have a busy schedule for the rest of the season, with games against Ballard and Rainier Beach this coming week, the Seattle Invite (where they will play some of the best teams in the Northwest) this upcoming weekend, league playoffs the week after, and then State playoffs the week of Halloween. JV also excelled this week, beating Garfield 11-7.
Girls' Swimming
Olivia Capestany
Roosevelt girls' swim team competed against Garfield on Friday, October 2nd. The ending score of the meet was Roosevelt 99 and Garfield 8. The air felt electric as the swimmers cheered on their teammates. Despite the win, the Roosevelt swimmers were not thrilled with the close finish.  The last few events were intense because the schools were so close in scores. "Normally we sweep most events but this was a closer meet that made the suspense in the pool a bit greater," senior and captain, Kai Haven noted. Once again, there was a slew of qualifying times: 35 Metro qualifying times, 19 District qualifying times, and 2 relays qualified for State (200 Medley Relay team of Marri Kutz, Louise Daigneault, Emma Lam, and Melissa Funes and 200 Free Relay of Marri Kutz, Natalie Neffner, Melissa Funes, and Jen Wen).  As the season is nearing its end, the team is still undefeated. The next meet will be October 9, against their biggest competitor, Lakeside. Lakeside are the reigning Metro and State Champs from last year. After that, there are three more meets and then Metros.
Football
Vasili Varlamos
The Roughrider football team cruised to a 35-15 win against the West Seattle Wildcats this past Friday. Senior Dane Rogerson lead all rushers in the game with an outstanding 172 rushing yards, while Senior Noah Gold lead the team in receiving yards with 12. Rogerson also rushed for 3 touchdowns in the game while Gold also rushed for a 52 yard long touchdown run. The Riders had a dominant defensive effort this game, recording a safety as well as linebacker Sam Cantrell taking a blocked punt back for a touchdown. In the 4th quarter, the Riders let some sophomores get some experience in the game and Sophomore Robin Lyons-Santiago bolted for a 50 yard run that was called back because of a penalty. The Riders now get to focus on their next game on Friday against the Garfield Bulldogs. Unfortunately, The JV riders lost in a comeback effort to Blanchet 34-26 and the JVC team lost to Eastside Catholic 46-6.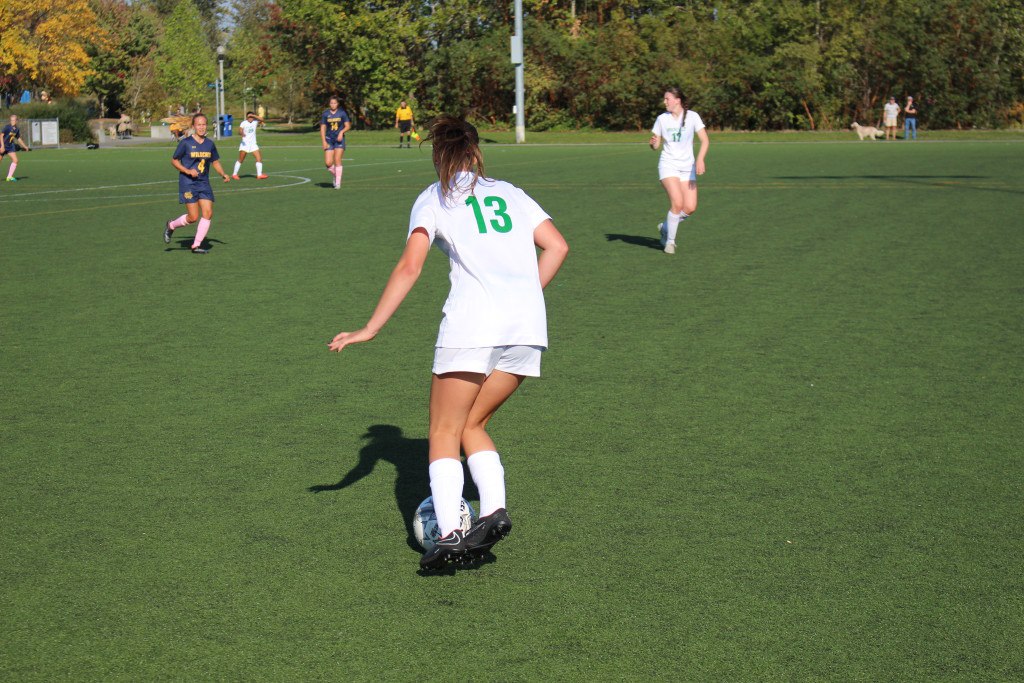 Girls' Soccer
Silas Miller
Roosevelt's girls' soccer lost to Holy Names Academy on Monday with a final score of 1-0. The very next day however, they redeemed themselves by smashing Franklin HS in a blowout of 11-1. Thursday's game against West Seattle HS resulted in a loss of 1-0, finishing out the week with a 4-4-1 Record. Junior varsity played two games last week, tying their home game against Holy Names on Monday and ending with a loss on Friday against West Seattle, but that hasn't deterred the team's spirit. Junior Holly Cochran put everything into perspective: "We are halfway through the season and have only lost one game," Roosevelt's JV squad continues to dominate with a 5-1-2 record. Cochran attributes it to the team's strong camaraderie: "All of us are friends off the field which helps us play better together." JVC's 2 games this week resulted in more victory for Roosevelt – Tuesday's game against Holy Names resulted in a loss, but was followed by total domination of Seattle Prep with a score of 8-2.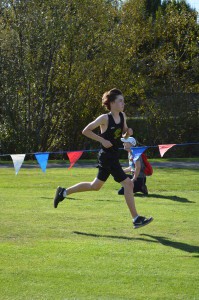 Boys' Cross-Country
Ira Rose-Kim
Roosevelt's guys' team joined the girls' squad as they took on the Twilight Invitational in Marysville. A majority of runners competed in the open race. The sweltering heat of midday made the race a difficult ordeal as many runners struggled through their competition. As the day went on, Roosevelt began to deliver stronger performances. Freshman Diego Berho took 7th in the JV Freshman/Sophomore race, leading the squad to a 9th place finish out of 37 teams. The JV Junior/Senior team also performed well, taking 11th out of 32 teams with Junior Thomas Hinds leading the way. The varsity riders, who got to ran at night under the course's vibrant lighting, ran a strong race. Many of the top runners ran personal bests of upwards of 30 seconds. However, the team is still only sitting 9th in Metro and will have to pick it up if they hope to make it through the post season. Next week they'll compete in a league meet at Lincoln Park against Ballard, Rainier Beach, West Seattle, Ingraham, and Seattle Prep as well as the Hole-In-The-Wall Invitational at Lakewood High School.
Volleyball
Julia Swanson
This week RHS Volleyball can be defined by one word: practice. With only one game this week, the team has been putting in a lot of hours at the gym. Their dedication to the game was shown when they took the floor playing Cleveland. Varsity won in a landslide victory, notably helping our way towards the playoffs. JV also did extremely well, winning the last match 25-7. The winning point was a simple serve, with a dropped ball on Cleveland's side of the net. With as much practice as they've been doing this week, we're sure to see many more victories to come.
Featured Photo: Roosevelt girls hang on the sidelines while they take on West Seattle. Photo by Ryan Henrie