While the Seahawks and Huskies are well into their seasons, and our own Roughriders are battling it out on the gridiron, there are some other teams you may not be as aware of. This year, 18 Roosevelt teachers have banded together into two divisions to form their own Fantasy Football league. For those of you who don't know much about fantasy football, you create your own team based on NFL players. Your players' statistics each week help your team generate points. Our teachers seem to be having a lot of fun and there has been no small amount of trash talking between them.  Mr. Gross is the commissioner of the league and is apparently undefeated as of October 4th. He boldly claims that he is "the best Fantasy Football player among Roosevelt High School teachers" and has plenty of advice for both beginning fantasy football players and teachers playing in the league. When asked about other teachers in the league, Mr. Gross didn't hesitate to lay it on pretty thick:
On Mr. Magidman:  "Mr. Magidman needs to find a suitable running back and I am willing to trade him one if he would only listen to me."
On Mr. Rose: "Mr. Rose has two wins and I think that's purely from blind luck because obviously he has no talent as a manager."
On Ms. Macdonald: "An absolute disgrace. I'm considering banning her from the league for inept managerial decisions."
On himself: "I am an unstoppable force of nature."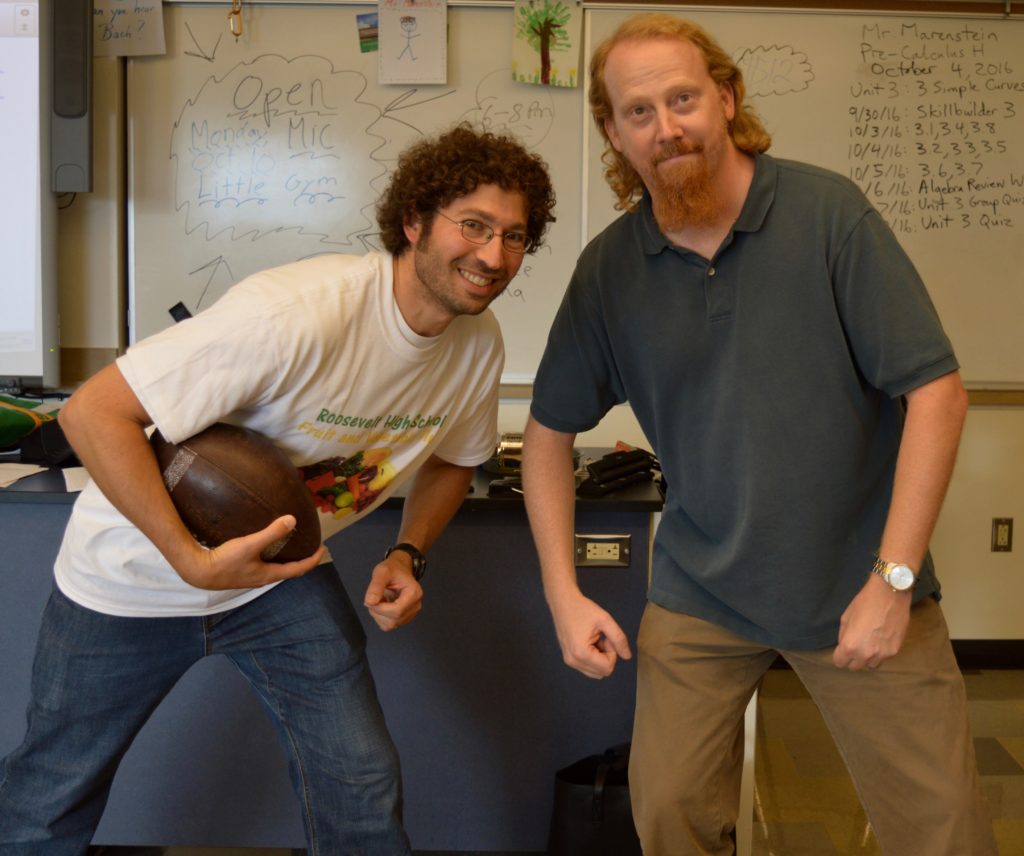 Mr. Gross has some great tips for those of you who might be thinking about joining a league. He recommends that you "fill out your running back and wide receiver positions before you get quarterbacks or tight ends." He also has a definite opinion on the best strategy for winning games: "To score well in fantasy football is about managing your risks because inevitably in the NFL there are a lot of injuries."
Mr. Katinas has his own take on how to be successful in Fantasy Football. To him, one key is to find the 'sleepers.' "You have to be looking for the quality players that were overlooked." In order to find these hidden players, Katinas says you have to do your homework. But the main goal is to just have fun and to not take it too seriously. When asked about his favorite aspects of the teacher league, Katinas mentioned the element of staff camaraderie. In the upcoming games, he predicts that that the confident Mr. Gross will come out on top.
Mr. Marenstein roasted the Language Arts and History teachers by saying that "Gross and Magidman will probably not be able to match wits with the math and science teachers." It's apparent that there's definitely a strong rivalry here. Marenstein also has a whole different kind of fantasy football strategy. He still has "this angst against the Patriots for beating the Seahawks," and so he drafted Gronkowski and Brady and put them on his bench so they're completely out of the league. "So instead of trying to help my team, I have put that focus on making sure that Gronkowski and Brady cannot hurt me or hurt anyone in the league." Marenstein may not be focused on winning, but he sure is trying to defend Seattle's honor.
All these teachers in the league seem pretty confident that their team will come out on top but it's still early in the season and anything could happen.
photos by Roxanne Alabastro