In recent decades, the relaxing, family-oriented traditions of Thanksgiving have seemed to become extinct. This holiday seems to have repressed itself into an American obligation. But cheer up, folks. These new, exciting, recipes will have your extended family rushing into your home, ready for an All-American Thanksgiving meal!
Stuffing
…Native Americans into reservations. Take a half cup of butter, two cups of cubed white bread, and cover up mass genocide with this greasy side dish! Fry, then bake at 350 degrees for about forty minutes. In the meantime, you can make paper art for your kids' Thanksgiving play at school! Don't forget those inaccurate headdresses!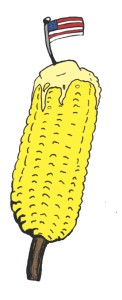 Corn on The Cob
Boil each ear in sweetened water on medium for about ten minutes, or until tender. Make sure to serve hot, and to spread some good old salty butter on those buggers! Mixing corn picked by immigrants with American butter is an example of true diversity. This country sure is a melting pot!
Sweet Potato Casserole
    Plain, baked sweet potatoes? Bo-ring! Take two pounds of these guys (peeled) and bake them at 375 degrees for forty minutes. Mix those with brown sugar and margarine, and top that with a thick coat of mini marshmallows, just like how us Americans like to sugarcoat things. Make sure to stack those 'mallows high as possible! Cover up everything!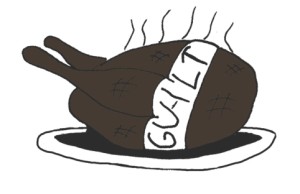 Slow-Roast Turkey
    Who could forget turkey! On Thanksgiving? No way! Take your seasoned turkey and slap that baby in the oven for about two hours. Yowch! Long time, right? In the meanwhile, you can always take advantage of those shopping opportunities. Commercializing the celebration of ethnic cleansing is always a good pastime before taking out that golden brown bird. Get a load of that!
    With these recipes, this holiday will be a blast. Make sure to handle these recipes with care, as well as your family. Happy holidays, everyone.
Featured Picture: Follow these recipes closely and they'll come out just like in the pictures!…Maybe. Picture by Lucas Suarez