With opening night on Thursday, May 26, the Roosevelt Theatre Department's production of Sweeney Todd: the Demon Barber of Fleet Street gave its first showing on Tuesday at the Golden Grad Preview. A departure from the lighthearted musicals of last year, Sweeney Todd tells the story of a vengeful barber, a pie maker, and a pair of star-crossed lovers. While the performance was not without hiccups, nothing was able to truly detract from the enjoyment of the musical. Comedic, suspenseful, and horrific moments were all complimented by outstanding performances from the principal actors.
Although the set was relatively minimal, it managed to accomplish what was needed. One large box played Mrs. Lovett's shop, parlor, and Sweeney Todd's barber shop. The remainder of the set consisted of a few doors, chairs, and two catwalks. Sweeney Todd's fully functioning barber shop chair was a shocking sight as the first body plummeted through the platform. Despite the rather plain set, there were still moments of great extravagance, like the scene of Mrs. Lovett's eating garden. The excellent choreography of the complete ensemble created a lively and full atmosphere, a great contrast to many of the musical's more bleak scenes.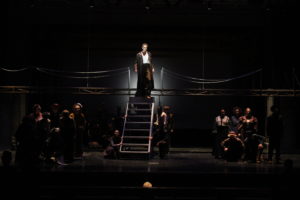 The production's greatest strength was in its actors. Senior Henri Fitzmaurice created a frightening Sweeney Todd and displayed incredible musicality. As Mrs. Lovett, senior Ava Yaghmaie managed to portray a despicable, yet extremely likeable character. She delivered the musical's best comedic moments and seemed perfectly in sync with Fitzmaurice. Senior Olivia Mora gave an extremely strong performance as the beggar woman. From her initial entrance on stage to the very end, she was one of the most captivating and interesting characters. One highlight was her unexpected arrival on the stage by crawling up from the orchestra pit. The role of Anthony Hope played by senior Joey Capestany, alternating performances with junior Duncan Weinland, had a few exceptional moments as well, including his solo "Johanna". Not one of the principals failed to give a great show.
        Sweeney Todd focuses on a rather dark tale, but it doesn't dwell long enough on the grave events to make the musical too depressing. Playful scenes provided by performances like Yaghmaie's and senior RJ Cardona's as Adolpho Pirelli kept the show fun and exciting. On the other hand, the production did a great job selling the more tragic and terrifying scenes, like the scene in Fogg's Asylum. The creepy and dreary costumes in addition to the startling effects help to keep the audience on edge during the most intense moments.
        The performance's minor mistakes will likely be ironed out before opening night and as the cast goes through more performances. Sweeney Todd is definitely worth attending. Performances are at 7:30 on the May 26, 27 and June 2, 3, and 4 with a 2:30 matinee on June 5.
---
Featured Photo: The cast on stage for opening night. Photo by Ruby Hale