Unfortunately, the American prison system is broken and many believe that the key to fixing lies in ending the school to prison pipeline and youth incarceration. In 2012, King County voted that a new detention facility for minors should be built. Although a new facility to replace the current rundown one may seem like a positive change, many opponents argue that building a new youth jail will create more long term problems for the community.
Washington State law requires every county to have a detention facility for underage offenders, prompting the construction of the Children and Family Justice Center in Seattle's central district. The $210 million construction project is intended to replace the out of date Youth Services Center as a facility for housing and providing services for youth convicts. "In 2012 when they passed the ballot initiative… We really felt that the ballot initiative was disingenuous," commented Senait Brown, the political chair of the Seattle King County NAACP, "It wasn't really about changing a dilapidated system. They were adding detention in to justify building out their mega courtrooms and reception center." The Children and Family Justice Center plans to include space for 112 beds as well as 10 courtrooms. The plans for the new facility will have about half the capacity of the current one. Brown stated, "Even though the numbers for crime have gone down in King County with juveniles, and even the numbers of juveniles in juvie went down, the disproportionality for black youth went up." The average daily population for the Youth Services Center is 60 which is a large decrease from 212 in 2002.
Opponents of the project hope to see a zero detention policy for youth in Seattle. The Children and Family Justice Center aims to help those who are detained in it, but opponents believe that prisons tend only to exaggerate the problems these youth face, especially in regards to mental health. "The school to prison pipeline pushes kids right into that system where they are actually traumatized, assaulted, and really criminalized for the rest of their lives," reasoned Brown.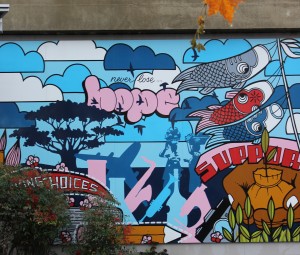 The proposed facility will house programs that are intended to help youth inside the prison, but community organizers do not view these as a solution to the problem. "All the programs that are going to be jumping at this opportunity to be in the reception center are not operating from a very clear and intentional, community led, anti-racist way are actually being more problematic. Those programs look at how they fix those broken kids, instead of how they fix a broken system, and that is unacceptable," clarified Brown. "We are working on creating our own outstitution. Institutions perpetuate racism, and outstitutions are what we can build as a community as an alternative." The people's plan for community justice is about looking at upstream approaches. The current approach of the Children and Family Justice Center is labeled as a downstream approach, meaning it works with people already in the system. Organizers want to see an upstream approach that tries to keep youth out of the system entirely. Brown sees the four efforts being made in political infrastructure, a media project, cooperative economics, and restorative practices as important steps to building this outstitution.
Seattle City Council has listened to the concerns of citizens and hopes to implement new resolutions in order to create a zero detention policy for youth in the city. "I think that we are going to see some activity from our more progressive judges. I know there are a lot of judges that do want these courtrooms, but there are judges who are willing to stand up for racial equity," remarked Brown. The construction of the Children and Family Justice Center is still expected to be completed in 2019, despite the protests. However, community organizers are committed to seeing the end of the project. Brown explained, "We are taking this to the state. We'll shut it down at whatever level we need to, but everywhere you turn there is a level of support."
Featured Photo: The old King County Juvenile Court. Photo by Ruby Hale