Isabelle Galus
Seattle's Rainier Beach High School has been put in a particularly rough position for many years with over 80 percent of students coming from economically disadvantaged families and only 50 percent staying through graduation. An academically rigorous program could be considered a granted wish for the school. Introduced at the beginning of 2013-2014's school year, the International Baccalaureate organization (IB) is an acclaimed program in educational systems worldwide.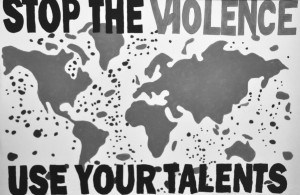 Rainier Beach IB teacher Jamie Kemano voiced that "All the kids here are really eager, willing, ready to learn, and they love challenges despite all the stereotypes about Rainier Beach… You don't really see IB programs in a lot of inner-city lower-socioeconomic areas. So the big thing is that we're just really passionate about offering open access and opportunity to kids, despite what their background is." Being a former employee in foster care and endangered youth programs, Kemano added, "I just believe that… if you build the scaffolding and skills they can be successful in a college preparedness program."
As a junior at Rainier Beach, Marvette Charles has gotten increasingly more involved in school since IB was introduced. "Before, everything was just high school… But now for me it feels like I'm taking a college class," she says. "But our school is really not how people think it is. They think that we're bad and we shoot people," she laughed. Regarding disadvantages in privilege, she goes on to say, "Of course we see 'Oh, this school got remodeled' like it's always something we don't have that another school does. We're getting a lot better, but we're not recognized for it. So it's like we're still 'That Bad School.'"
With an eleven-year record of IB programs on its plate, Ingraham High School in Seattle is renowned for its Baccalaureate courses. With so much experience, the results it has gotten from the program have the ability to show Rainier Beach's future as an IB school a bit more clearly. Nell Baumgarten, a sophomore at Ingraham, is one of many students who was pushed to attend because of IB. When discussing the perks, she states "I really like how I go more in depth into things in my IB classes. I love that I feel I am actually doing less busy work and more learning." Though sometimes, she adds, "There is a little too much pressure… [But] I think it gives a better cultural understanding."
Of course, this feeling of "understanding" is something that is sought after by all schools. So what could it bring to Roosevelt, which is already above the national average for public schools in academic achievement?  Studies have shown a large connection between IB courses and initial student success at colleges and universities. Roosevelt junior Mia Vanderwilt commented "Adding IB classes here could stimulate student learning and could be a great option. I would definitely take those classes if they were offered." Although an Advanced Placement curriculum is considered above average in difficulty, Vanderwilt believes that the differences between regular and advanced classes "is not that students are more motivated," proposing, "I think it's that teachers' expectations are higher of their students in more difficult classes."
Says Jamie Kemano, "I would just say that you need to empower kids to know that they are capable, that they are smart… As long as they face the challenge everyday and try their hardest, they're always going to improve." So could all schools, IB or not, adapt this kind of ideology? A positive outlook and dedication, after all, has brought Rainier Beach to its peak performance in years, and it doesn't look like it's going back down anytime soon.