Looking for your weekly serving of sports? We've got all of the fall teams' highs and lows right here!
Girls' Swimming
Olivia Capestany
Despite being on Halloween night, the girls' metro swim meet was a blast. The Roosevelt team was in high spirits as they headed to Sammamish to swim in the metro tournament. Excitement and nervous energy were in the air on this traditionally spooky day. The team continued to have great sportsmanship and always cheers for each other.  The swim team did exceptionally well and scored third overall. Next week, those who qualified will go to districts, and then state.  Many of the team will be going to state and will represent Roosevelt well.
Football
Vasili Varlamos
In another crossover game this past Thursday, the Rider football team lost a close one to O'Dea 21-14. The Riders passing offense was in full effect in the game as senior Mayan Chavez threw for 159 yards and a passing touchdown and a rushing touchdown as well. Senior Dane Rogerson led the team in rushing and receiving in the game with 60 rushing yards and 59 receiving yards. Rogerson also recorded a receiving touchdown as well. The Rider defense played great against the physical O'Dea offense, recording two sacks and a fumble recovery as well. The Riders were leading for most of this game until a controversial late 4th quarter fumble recovery for O'Dea was taken back for a touchdown. The Riders will now have to play in a win-or-go-home matchup against the Kennedy Catholic Lancers on Friday. If the Riders win in the game against Kennedy, they will move on to the state playoffs; with a loss, the Riders season will be over. In other news, the JV riders had a bye week and the JVC had their last game against the Blanchet JVC, which ended in a loss for the JVC Riders 26-13.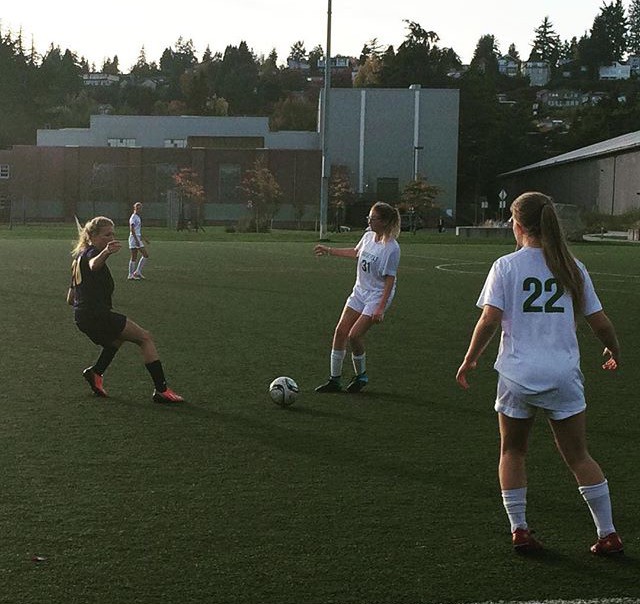 Girls' Soccer
Silas Miller
On Monday, Roosevelt's Varsity girls soccer finished off the regular season with a 1-1 tie against West Seattle, ending with a record of 9-5-3. They then moved on to Metros; they played on Saturday against Eastside Catholic. Unfortunately, the Riders lost 2-1 and were removed from the postseason. While it may have had a rough end, there is no doubt that Roosevelt's varsity girls soccer had a great season. Keep an eye out next year for more powerful moves by this group. Junior Varsity also played their final game on Tuesday, mirroring Varsity's tie with West Seattle with a final score of 1-1. The JV squad overall had a great season, ending with a 9-2-4 record as one of the top JV teams. The JVC squad ended their season on a high note, smashing Seattle Prep 4-1 in their final game Monday afternoon.
Boys' Cross-Country
Ira Rose-Kim
This week was the last week of boys' cross-country as they suffered through a tough race at the Sea-King District Championships at Lake Sammamish State Park this Saturday. The conditions were hardly ideal. Blustering winds and heavy rain reduced the course to a mess of mud. Regardless, the race went on. The team took 12th and failed to continue to the state meet. Freshman Diego Berho led the team this time around, placing 45th with a  time of 17:45, roughly 45 seconds behind his season best. He was followed by junior Jack Bylund, seniors Nathan Smith and Ira Rose-Kim, and juniors Andrew Moore, Thomas Hinds, and Silas Miller. This was a difficult way to wrap up the year seeing as its the first time in quite a while that Roosevelt hasn't been able to send an individual or a team to state. However, the team is poised for a strong season next year as they'll only be losing two of their top 14 and only six seniors overall. The team is young and there's a lot of potential so make sure to keep your eye out for them next year.
Volleyball
Julia Swanson
This week, Metro Playoffs kicked off for RHS Volleyball. After a long season of fighting for wins, it all boils down to the following weeks of play. The playoffs started on Monday in a tough match against Bainbridge. It was back and forth wins throughout the whole game, going into deep overtime in two different sets. In the tie-breaking set, Riders pulled through and won 17-15. In total for the game, sophomore Sara Flynn got a total of 21 kills, an exceptional amount of ground-pounding hits. Overall, this was a huge win for Roosevelt, and created a positive outlook for the remainder of the week. On Thursday, Riders faced Holy Names, a team infamous for their high level of play. In the end, Roosevelt lost this game. However, they did get playing time for some JV swing players, helping prepare for next fall's season. Over the weekend, Roosevelt participated in a Metro playoff tournament, lasting from 9am to 9pm on Halloween. First, the team played Garfield, which unfortunately resulted in a loss for Roosevelt. Later, they took the court against Ballard, which thankfully led to a satisfying win. Ultimately, this week's RHS Volleyball required heavy commitment from all players. With grueling practices, nail-biting games and non-festive tournaments, their level of play is shown through their loyal dedication to the sport.
Girls' Cross-Country
Ana Jurca
The women's cross country team is in the home stretch of their season. Though the majority of the team is finished, varsity ran at the 3A SeaKing & 4A Bi-District I/II Championships on the morning of Halloween at Lake Sammamish State Park. Conditions were extremely challenging, with torrential rain turning the course into a pit of mud and sandy water. The majority of runners participating in the race ran between 30 and 60 seconds slower than usual. Despite conditions, varsity managed to place eighth out of 12 teams. Unfortunately, they will not be able to move on to State as a team. However, senior Helen Schuda took 11th place with a time of 19:59, and junior Jane Barr took 21st place with a time of 20:20. Schuda and Barr will be able to move on to State individually. Senior Emily Cohen took 53rd place, sophomore Sophia O'Hara took 55th place, sophomore Sammie Cohen took 70th place, junior Anna Larson took 71st place, and senior Flora Davis took 75th place. For these runners, a strong season has come to a close. Schuda and Barr will be competing at the State Championships at Sun Willows Golf Course in Pasco on November 7th.
Golf
Jonathan Kent
The Roosevelt golf team finished the fall season this week with the boys team competing in Districts. After the boys' team finished the regular season undefeated and became Metro League champions, all six of the selected golfers qualified to play in Districts on Tuesday. 56 golfers went to compete in Kent on Tuesday, and the play narrowed it down to the top 26. Only the top 20 golfers' scores count towards their team, and of Roosevelt's six players, three of them finished in scoring positions. Seniors Sam Skalbania and Miles Trieger tied for fifth and Joe Klemenic finished in seventh place. Even with just three scoring positions, Roosevelt was still able to win the tournament over Mercer Island High School. "It was good to beat all of the East side schools like Bellevue and Mercer Island," commented coach Max Rose. The win at Districts made this year the most successful year in Roosevelt golf's history. Now the team has a six month break until they can begin practices two weeks before state competition in May. "Last year, the girls were playing really well through Metros, and then they had to take six months off…At Districts, everyone blew up. Nobody made it to State," recalled Rose. He hopes that the girls practice on their own until they play in Districts in May, and the same for the five boys who qualified for State.
Boys' Water Polo
Leigh Kiker
Boys' water polo played another good game this week, beating Shorewood 15-8 at Shoreline pool on Monday. On Friday, they'll head to regionals at Rogers High School and play both Friday and Saturday. Their dominant season puts them in a good place for the tournament, though they've had a few hiccups throughout the year. The top four teams at regionals will continue on to state. As of now key player and sophomore Conrad Gordon is out with an elbow injury, so the team will have to make do without him.
Boys' Ultimate
Conor Courtney
The boys' fall ultimate frisbee season had a crazy ending to say the least. They went into the week ranked #1 in the highly-competitive DiscNW district tournament and defeated their rival, Ingraham, in a close 11-10 game to get to the semis. They went into the semis at Starfire stadium against an underdog Lakeside team. However, Wednesday night was not the riders' night. A combination of nerves and mistakes led to an impatient offense, and a defense that could not convert. The riders suffered only their third loss of the season 10-9, in the game where it mattered most. However, the third place finish is the highest the riders have ever placed, and this team is considered one of the best in Roosevelt ultimate's history. In addition, the riders also had the Western US qualifying tournament over Halloween weekend. They rolled into Saturday to face Chief Sealth, Cleveland, and Ballard, and won each handily, the smallest margin of defeat being 6 points. They fought off wind and rain to beat Cleveland in the semis on Sunday, but a combination of injuries and overall exhaustion resulted in the riders falling to Nathan Hale in the finals. The riders ended the season with a 22-4 record, and will go into the spring season looking to three-peat as league champions, and defend their title at the Western US Championships.
Featured Photo: Girls warmup before their races at the league champs for swimming. Photo by Ruby Hale