Looking for your weekly serving of sports? We've got all of the fall teams' highs and lows right here!
Volleyball
Julia Swanson
Roosevelt Volleyball is kicking off the year with a bang. Although school has only been in session for a week or so, the season is still in full swing. They've already played 6 out of 15 teams, not to mention the 3 hour practices held after school every other day. Varsity is nearly undefeated with a record of 5 and 1, losing only to Garfield, our neighbors in Capitol Hill. JV, with the same record, is also excelling in local tournaments. They dominated the Mariner Classic, coming out on top at first place. This team's success probably comes from their close camaraderie. Lucy Black, #13 of the JV squad, added that they spend a lot of time together outside the gym, creating outstanding cooperation on the court. Overall, Roosevelt Volleyball has done exceptionally well these past few weeks, and are set to continue their success for the rest of the season.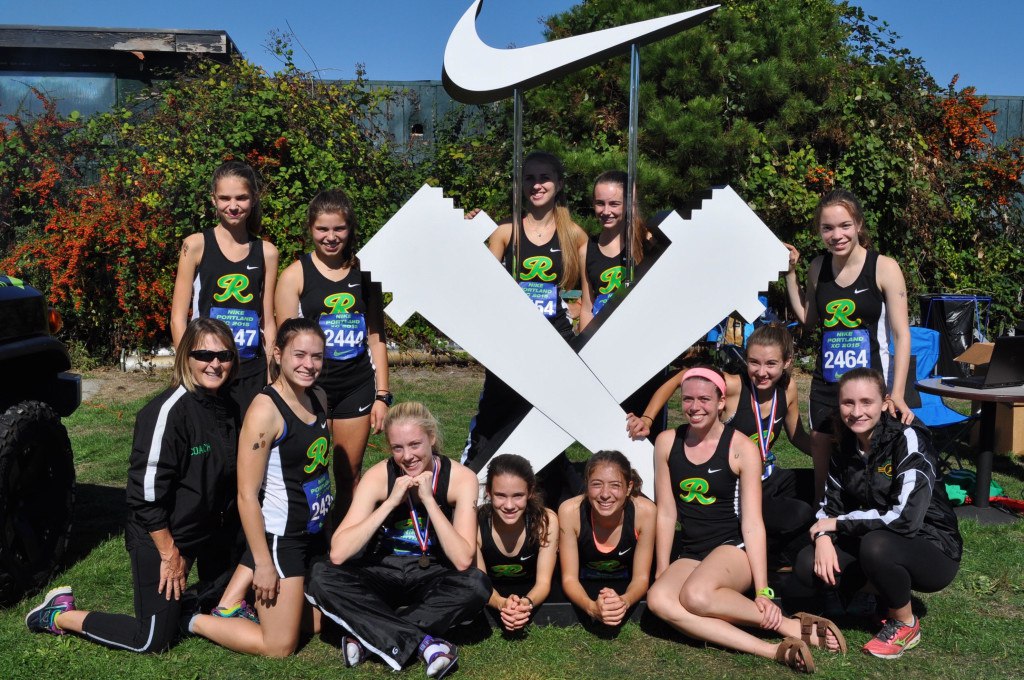 Women's Cross-Country
Ana Jurca
This fall, the girls cross country team is at a record size for Roosevelt at nearly 90 runners: and they have started their season with a bang. Last week's meet at Cowen Park against Holy Names was an easy win, with six Roosevelt girls placing in the top nine spots. However the top eleven girls on the team took the meet as a work out rather than a race, saving their energy for the Nike Portland invitational (formerly known as Nike Pre-Nationals) this last Saturday. In the Division 1 race, our team of seven upperclassmen placed 6th out of 17, with senior Helen Schuda taking 13th place and juniors Anna Larson and Jane Barr placing 15th and 16th. In the Frosh/Soph JV race our underclassmen fared well, taking 24th, 14th, 10th, and 2nd places for individuals. Junior varsity travelled to Sammamish for the Bellevue Invitational on Saturday as well. In the JV race, the Riders placed 15th out of 22, and in the Open Race they placed 4th. Their next combined meet will be on Thursday, October 8th at Lincoln Park.
Golf
Jonathan Kent
Roosevelt's golf team played against West Seattle on Monday, September 22 at the Jackson Park Golf Course. Both Roosevelt guys and girls were able to leave with yet another win. The Roosevelt guys safely won with 147 points to West Seattle's 96. Joe Klemencic was able to go 2 under par with 37 strokes, giving Roosevelt 28 points. With West Seattle only having three girls to play, the Roosevelt girls were easily able to walk away with a 113 to 29 win. Lauren Grey led the girls with 43 strokes earning 30 points. The following Thursday, Roosevelt played Seattle Prep at Jackson Park. "There are a couple good players on Prep, but we should be fine," remarked Roosevelt's Joe Carey before play started. "We're better than last year. We all played over the summer, the whole season, and we've been getting better so we should be 12 and 0 again," added Carey. Roosevelt came away with another win with guys out-scoring Seattle Prep 136 to 123, and girls winning 114 to 96. Roosevelt guys now hold a record of 6 wins and no losses and Roosevelt girls have 5 wins and 1 loss. Next week, Roosevelt plays at Jackson Park on Tuesday and at West Seattle Golf Course on Thursday.
Guys' Water Polo
Ira Rose-Kim
Roosevelt's guy water polo team had a busy week. They played four league games, all of which they won. One of their victims happened to be the reigning state champs, Bellevue High. The game went into overtime, but the Riders prevailed, winning 14-13. Along with this, the team traveled to Canada to participate in the University of British Columbia's water polo tourney. Even though they are one of the younger teams there, they still performed exceptionally well, leaving with a record of 1-1-2 against college-level teams. Roosevelt's next game will be against Inglemoor, tomorrow night.
Guys' Ultimate
Ira Rose-Kim
Like Water Polo, Guys' Ultimate Frisbee also had a crucial victory. They took down state champs Nathan Hale, 11-10. After their win at the Western Championships this Spring, they've cemented their position as one of the best frisbee teams in the nation, let alone the state. In addition to their victory against Hale, they crushed West Seattle, 13-2.
Camaraderie at the girls' swim meet. Photo by Ruby Hale
Girls' Swimming
Olivia Capestany
On Friday, September 25th the Roosevelt Girls' Swim team once again excelled in their third meet against Ballard. The final score of the meet was Roosevelt 129, and Ballard 56, marking their third consecutive win. In addition to that, there were 50 Metro qualifying times, 26 District times, and 3 state times. The three state qualifiers were Mia Syme in the 500-yard freestyle, Louise Daigneault in the 100 Yard Butterfly, and Marri Kutz, Emma Lam, Daigneault, and Melissa Fumes in the 200 Yard Medley Relay. "I'm super excited that I made it to state this year and I'm so happy it's with my best friends.," said Sophomore Louise Daigneault who's qualified for state for the past two years. The swim team is a very supportive community and is always loudly cheering for each other. "Roosevelt swimming is an inclusive family and it's great that we can all bond over a sport that we love, " Senior Elliott Moore said. Roosevelt's next meet is October 2, at Medgar Evers Pool vs. Garfield.
Football
Vasili Varlamos
Roosevelt's football team lost a tough one Saturday 48-14 to rival Blanchet, which was homecoming night for the Riders. It's the second year in a row the Riders have been beaten by Blanchet; last year the Riders lost the game 42-12. Dane Rogerson was the leading rusher for the Riders with 57 rush yards, while Mayan Chavez lead the team in passing yards with 102. The leader in receiving yards was Michael Buyco with 42, including a big 32 yard reception. The touchdown scorers for the Riders were running backs Noah Gold and Rogerson, both posting one touchdown a piece. The defense worked hard in the game to stop the bolstering Blanchet offensive showcase. Robert Belk-Harvard and Buyco each had an interception in the game, both coming off end zone passes by the Blanchet Quarterback. Sophomore Dylan Jacobi noted, "It always sucks to lose, and losing to Blanchett makes it much more sour… We will learn and get better, and go out and fight our way through Metro." After the loss, the Riders are now 1-3 and their next event is a league game against the West Seattle Wildcats.
Girls' Soccer
Silas Miller
Roosevelt's varsity team for girls soccer beat Bishop Blanchet on Tuesday with a final score of 3-2. They followed the victory with a tremendous shutout of Rainier Beach on Thursday, winning 12-0 and bumping their season record to 3-2-1. RHS player Amy Alverson says that even though they had a bit of a bumpy start, she expects the team to continue to improve. "We are on a roll now," said Alverson. "I think the rest of our season is going to be great!" Junior varsity also played two games last week, performing nearly as well; JV tied their home game against Blanchet on Tuesday and pulled a solid win on Thursday against Cleveland HS with a final score of 5-2. As of this week, Roosevelt's JV squad is demonstrating their superiority in the league with a record of 5-0-1. JVC had only one game this week, played on Monday against Ballard HS. The game was fought hard but ended in a loss for Roosevelt with a score of 5-1.
Men's Cross-Country
Ira Rose-Kim
The men's cross-country team had a lax week. At Cowen Park on Wednesday, the 23rd, they took on the O'Dea Fighting Irish. The men swept the race with Roosevelt runners taking the first six spots. In a dual meet, a team needs only the top three to guarantee their victory so needless to say, the Riders' win was dominant. Junior Jack Bylund led the squad with a time of 17:03 for 5k. Underclassmen were also well represented in the top runners with Sophomore Graham Fulton and Freshman Diego Berho taking 4th and 3rd respectively. While the girls' team travelled to Bellevue and Portland, OR over the weekend, the guys stayed home. There won't be a league meet for Roosevelt next week, but they will participate in the Twilight XC Invitational, hosted by Marysville-Pilchuk High. Until then, they can look forward to a hard block of training to ready themselves for the deep competition they'll be seeing at Twilight.
Featured Photo: Roosevelt takes on Blanchet at the homecoming game. Photo by Aidan Walter.